2007 was an incredible year of music and there were so many albums I really liked that didn't make this list. I noticed that most of the lists I pay attention to were very similar to one another this year as opposed to last year. Also, I've found myself in more of a disagreeance with those lists than last year. If there is any theme to be taken out of this list, I think it's that I feel like too many great albums were underrated by the blogosphere elites, and that they were way in love with some albums I think are overrated. This list represents my personal assertions more so than the rest of the Ohmpark crew, but I worked hard to get every one's opinions and influences in this thing. Feel free to comment on how much you hate or love it. I feel like every album on this is an essential one from last year, so go listen to some new music:


Click here to read the entire post…
Posted by Davy Minor on January 4, 2008 at 5:56 pm
Tags: 31 Knots, 65Daysofstatic, Akron/Family, Animal Collective, Baroness, Bat For Lashes, Battles, Behold The Arctopus, Best of 2007, Between The Buried And Me, Blonde Redhead, Caribou, Cloud Cult, CocoRosie, Cyann & Ben, Dan Deacon, Deerhoof, Deerhunter, Dirty Projectors, Do Make Say Think, Earlimart, Explosions In The Sky, Fiery Furnaces, Gazpacho, Ghost, Iron & Wine, Justice, Kevin Drew, Liars, Marnie Stern, Menomena, Minus The Bear, Modest Mouse, No Age, Of Montreal, Omar Rodriguez-Lopez, Panda Bear, Phosphorescent, PJ Harvey, Porcupine Tree, Queens Of The Stone Age, Radiohead, Sea Wolf, Smashing Pumpkins, St. Vincent, Sunset Rubdown, The Cinematic Orchestra, The Nels Cline Singers, Thurston Moore, Wilco, Yeasayer

Grizzly Bear, one of my favourite bands these days, is releasing an EP called Friend on November 6th. The ten track EP features a collaboration with Beirut's Zach Condon and Grizzly Bear covers by Band Of Horses, CSS, and Atlanta's own Atlas Sound (Bradford Cox of Deerhunter). Here's a The Crystals cover on the EP:
Grizzly Bear : Friends : He Hit Me (And It Felt Like A Kiss)
Menomena have a new video out:
Led Zeppelin reunion rumours are growing traction.
Creative Loafing reviews the new Black Lips album out on Tuesday. Remember you can still preorder it from Criminal Records and go to the release show that night at MJQ.
A couple of Home Park bands, From Exile and The Lasch, are playing the Faster Moustache's 24 hour urban bicycle race this weekend. Some live FE:
The Pipettes will be at Vinyl on October 16th.
So i just finished the first season of Showtime's Weeds and I like it alot. Here is The Shins' James Mercer covering the Weeds theme song.
Wanna know where hip-hop is these days? 50 cent and Kanye West are going to have a debate on BET about who has a better album with play-by-play from ESPN's Stuart Scott next Tuesday when their albums come out. I'm not making this up.
The Klaxons, after winning some prize that I don't really care about but everyone on the internet seems to, are working on a new album.
Here's Amy Winehouse performing at the Mercury Awards (that prize that the Klaxons won):
Built To Spill are awesome and here's an interview.
More interviews:
Here's some Queens Of The Stone Age vids to get your weekend rocking:
Posted by Davy Minor on September 7, 2007 at 12:13 pm
The final day started with Deerhunter and I was interested to see what they would do on what was probably one of the biggest crowds they've played to. They brought their A game and Bradford Cox shined on stage. They even got some of Grizzly Bear to jam with them at the end. There's something special about seeing two of the best young bands today teaming up like this and gives me even more optimism about the state of music today. We watched The Ponys from far away and they sounded good with the exception of the entire PA system going down for half of it. Seriously, Pitchfork Fest's sound system seemed to get even worse as the days went on and I've never seen anything like that at a music festival. Next up we watched Menomena put on a really good show. They seemed especially loose and maybe over excited or something but that seemed to work favourably for their sound. This is another band that if you haven't got into yet, i strongly urge you to check them out. The next band I went to see was The Sea And Cake. It was hard for me to believe how bad it was considering how much I like this band. In their defense, the sound system did seem to be especially terrible for their set, but I do not like the direction this band has gone in. The show and the new album both seem like their missing the magic this band used to conjure up. I caught a little bit of Stephen Malkmus playing a solo set. It was good but it's just not exactly my thing. The best show of the day for me was Of Montreal. This band combines art with fun like no other. They did a few new songs, Kevin Barnes wore a few outfits, they even played a little football on stage. I waited a really long time to see Klaxons next. They were good but the weak sound system on the third stage made it seem more underwhelming than it should have. We ended the night watching De La Soul do a solid performance.
Overall, the fest was fairly interesting and a good experience. They must do something about the sound system because it was way too amateur for a festival of this size. I know the ticket prices were low, but if I have to pay another ten or twenty bucks to get to listen to more than the band's monitors for half the shows, it might be a good idea. The actual line-up mostly delivered on the hype, but I think Pitchfork could do a little better job scheduling. The venue was nice but if they want this event to get any bigger they're going to need to relocate. I will say that the security was extremely light and well behaved, and I am always a big fan of that. Overall, Pitchfork Fest gets a thumbs up from me but need to improve some things for next year.
Posted by Davy Minor on July 16, 2007 at 11:10 pm
Tags: De La Soul, Deerhunter, Grizzly Bear, Klaxons, Menomena, Of Montreal, Pitchfork Fest, Pitchfork Fest 2007, Stephen Malkmus, The Ponys, The Sea and Cake

Tuesday night I arrived at the Drunken Unicorn at 8:15pm because I thought I read somewhere that doors opened at 8pm. Well, they didn't end opening until about 9:20pm. I spent a good hour at the coffee shop next door playing Super Mario Brothers on the DS and then went in with the large crowd of folks waiting to be let in. First band up was Jeffrey Butzer's Midwives. They came out in masks and and matching suits like a classic ska/surf outfit and then did some fantastic surf rock. I've been getting into this genre a lot lately going back and listening to old stuff so it was great to hear a band doing that style so well. They even had a tiny piano for like kids that they would play on some songs. Really cool:
Next up was this band called the N.E.C. It includes members of Kill Gordon and Snowden's Jordan Jefferes. I like both of those bands but I was disappointed with this project. They sounded like the a watered-down version of the Black Lips with less intensity and less of an edge. It wasn't necessarily bad, but it just felt too much like a cheap ripoff. Near the end, some kids in the crowd came on stage hitting some of the band with vegetables and it just came off very contrived and out of place. Due to Snowden blowing up and Jordan Jefferes not having much extra time, he has left the band since this show and the N.E.C. will continue on as a three-piece:


I had been listening to Menomena's new album all the time lately and I was very excited about the show. I was not let down. Most of the set included songs off of Friend And Foe and they played them beautifully. They made use of an extensive instrumentation for a three-piece including an e-Bow and a Moog Taurus. There's something special about a band where everyone can take on vocal duties and shine. They seemed very appreciative of the crowd response and recalled bad previous trips to Atlanta while talking a lot of smack about Smith's Old Bar. You could tell that they were loving the crowd and were utilizing the energy well. If you have not looked into this band, do so because their album is one of the best to come out this year and they put on a hell of a show. My friend Bobloblaw79 took some videos:
Menomena will be at the Drunken Unicorn tonight. Looks to be a great show.
Blood Brothers will be at The Masquerade this Saturday night:
Sebadoh (featuring Lou Barlow from Dinosaur Jr) plays at the variety Playhouse Sunday night:
Some really good stuff:
Menomena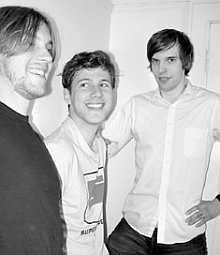 This Portland 3-piece's Friend And Foe is quickly becoming one of my favourites of the year. Describing this band is difficult for me, a little Clouds Taste Metallic era Flaming Lips, maybe a touch of old school Modest Mouse, maybe a touch of Morphine. I don't know. Give these tracks a listen, and if you like, go get the album because every song on this thing is great.
Explosions In The Sky



Their new album, All Of A Sudden I Miss Everyone, is a great example of a band that just does their thing, and gets better and better. Many may think that this album sounds very much like most of their others, and that's somewhat true, but some bands just do what they do masterfully, and that's all they need to do. Sometimes a band just doesn't have to head off into another direction (Modest Mouse comes to mind). Give a listen to a great band in their prime:
Buy Explosions In The Sky : All Of A Sudden I Miss Everyone
Do Make Say Think

Another great post-rock album i've been listening to is DMST's You, You're a History In Rust. Part of the Broken Social Scene extended family, these guys are really awesome. Where the new Explosions In The Sky record works to perfect an already "classic" style of post-rock, this album takes alot more liberties and avoids any derivative labels. Enjoy:
Buy Do Make Say Think : You, You're A History In Rust
Final Fantasy

I knew when I did my top 50 List of 2006, that i would miss some albums that deserved to be on it because I had only a limited amount of time and resources. He Poos Clouds is the first one. Final Fantasy (aka Owen Pallett) is a violinist/vocalist who played with Arcade Fire on tour and even did some of the string arrangements on their new album, Neon Bible. This second full album as Final Fantasy is just simply phenonemal. You really need to get this:
Buy Final Fantasy : He Poos Clouds
Posted by Davy Minor on March 8, 2007 at 1:02 am