Bonnaroo made some line-up additions:
Cat Power
Zappa Plays Zappa
The Disco Biscuits
MSTRKRFT
Chromeo

Decent additions, but only the electronic acts get me excited. This is what we want.
Sasquatch Music Festival, the big daddy Memorial Day fest that goes down at the Gorge Amphitheater in Washington state, just released a line-up:
R.E.M. / The Cure / The Flaming Lips U.F.O. Show / Death Cab For Cutie / Modest Mouse / M.I.A. / Flight Of The Conchords / Rodrigo Y Gabriela / Michael Franti & Spearhead / The Breeders / Built To Spill / The Hives / Tegan & Sara / Ghostland Observatory / Ozomatli / The New Pornographers / Blue Scholars / The National / The Kooks / Stephen Malkmus & The Jicks / Cold War Kids / Beirut / Rogue Wave / Okkervil River / Fleet Foxes / Kinski / Mates of State / Sera Cahoone / Crudo (featuring Mike Patton & Dan The Automator) / Battles / Destroyer / Dyme Def / The Blakes / Pela / Jamie Lidell / The Cops / Dengue Fever / Siberian / Say Hi / White Rabbits / David Bazan / The Little Ones / "Awesome" / Dead Confederate / The Heavenly States / 65daysofstatic / Grand Archives / Vince Mira with the Roy Kay Trio / Joshua Morrison / Throw Me The Statue / J. Tillman / The Shaky Hands / Thao Nguyen with the Get Down Stay Down / Matt Costa / The Cave Singers
That's a hell of a line-up and now I'm really considering going to this. The Gorge is considered by many as the coolest venue in the US. Tickets are reasonably priced and go on sale Saturday March 8th. More details on their website.


Click here to read the entire post…
One of the dudes from the Black Lips recently shut down a big Atlanta Magazine photo shoot with a fire extinguisher. Typical.
Pitchfork interviews Bradford Cox (Atlas Sound/Deerhunter). Also typical.
Atlanta's Attractive Eighties Women have a live album out this week:
AEW sound '80s hardrock like their name would denote, but with really funny lyrics full of Atlanta references. Check it out:
They Shoot Hipsters, Don't They

Pandamonium



Click here to read the entire post…
2007 was an incredible year of music and there were so many albums I really liked that didn't make this list. I noticed that most of the lists I pay attention to were very similar to one another this year as opposed to last year. Also, I've found myself in more of a disagreeance with those lists than last year. If there is any theme to be taken out of this list, I think it's that I feel like too many great albums were underrated by the blogosphere elites, and that they were way in love with some albums I think are overrated. This list represents my personal assertions more so than the rest of the Ohmpark crew, but I worked hard to get every one's opinions and influences in this thing. Feel free to comment on how much you hate or love it. I feel like every album on this is an essential one from last year, so go listen to some new music:


Click here to read the entire post…
Posted by Davy Minor on January 4, 2008 at 5:56 pm
Tags: 31 Knots, 65Daysofstatic, Akron/Family, Animal Collective, Baroness, Bat For Lashes, Battles, Behold The Arctopus, Best of 2007, Between The Buried And Me, Blonde Redhead, Caribou, Cloud Cult, CocoRosie, Cyann & Ben, Dan Deacon, Deerhoof, Deerhunter, Dirty Projectors, Do Make Say Think, Earlimart, Explosions In The Sky, Fiery Furnaces, Gazpacho, Ghost, Iron & Wine, Justice, Kevin Drew, Liars, Marnie Stern, Menomena, Minus The Bear, Modest Mouse, No Age, Of Montreal, Omar Rodriguez-Lopez, Panda Bear, Phosphorescent, PJ Harvey, Porcupine Tree, Queens Of The Stone Age, Radiohead, Sea Wolf, Smashing Pumpkins, St. Vincent, Sunset Rubdown, The Cinematic Orchestra, The Nels Cline Singers, Thurston Moore, Wilco, Yeasayer

The best ofs continue. Here are the songs I really dug this year, arranged in what i think is a great flowing hour and a half experience. I did cheat a little bit and included a few tracks from my best 2006 Albums of 2007 list, but these songs will always make me think of this year, so it'll work. Enjoy:
The Shins : Wincing The Night Away : Sleeping Lessons
Midlake : The Trials Of Van Occupanther : Roscoe
The Cinematic Orchestra : Ma Fleur : To Build A Home
Blonde Redhead : 23 : Spring And by Summer Fall
Earlimart : Mentor Tormentor : Happy Alone
Wilco : Sky Blue Sky : Impossible Germany
Beach House : Beach House : Master of None
Low : Drums And Guns : Breaker
Of Montreal : Hissing Fauna, Are You The Destroyer? : The Past Is A Grotesque Animal
Deerhunter : Fluorescent Grey : Wash Off
Akron/Family : Love Is Simple : Don't Be Afraid, You're Already Dead
Snowden : Anti Anti : Anti Anti

Moorish idols : Moorish Idols : Why Are We Whispering
Phosphorescent : Pride : Wolves
Smashing Pumpkins : Zeigeist : Neverlost
Radiohead : In Rainbows : Reckoner
Marnie Stern : In Advance Of The Broken Arm : Patterns Of A Diamond Ceiling
Posted by Davy Minor on December 18, 2007 at 11:16 am
Tags: Akron/Family, Beach House, Best of 2007, Blonde Redhead, Deerhunter, Earlimart, Low, Marnie Stern, Midlake, Mixtape, Moorish Idols, Of Montreal, Parade, Phosphorescent, Radiohead, Smashing Pumpkins, Snowden, The Cinematic Orchestra, The Shins, Wilco

Smashing Pumpkins 2007-11-07 Athens, GA (NTSC)
Smashing Pumpkins
11-07-07
Classic Center
Athens, Ga
Video:
NTSC
MPEG 2
720×480 16:9
29.97
8000 kbps avg
Audio:
LPCM (wav file from original avi rip of master)
Source: Panosonic PV-GS300
Location: Front row far right, seat A10 (due to this, jimmy pretty much doesn't exist. I got a fewgood shots but most of the time sacraficed him for a much better shot of the rest of the band)
Lineage: Master>Vegas 7 Capture and render to Mpeg2> TMPGenc DvdAuthor2
Disk 1
United States
Bullet with Butterfly Wings
Drown
Bring the Light
Tonight Tonight
Tarantula
Pomp and Circumstances
Glass and the Ghost Children
Superchrist
Doomsday Clock
1979 (solo acoustic)
Disk 2
Perfect (acou
The weekend before Halloween, we went down to New Orleans to catch Voodoo Fest. We arrived downtown early Friday, checked into the bed and breakfast we were staying at, hung out for a second, and headed down to City Park where the fest was located. Since the line-up had been announced, one of the acts I was most excited about seeing was Ghost, whose album from this year, In Stormy Nights, I've loved. Unfortunately, when we went to set up to catch them, they weren't the Japanese noise-rock group Ghost, they were the New Orleans nu-metal, rap-funk group Ghost. We felt like we had just got punked. After that debacle, I went to catch Black Rebel Motorcycle Club and they were ok, but nothing really special.
Next up was Porcupine Tree, who put on a hell of a show jamming out hard. There was a relatively small crowd for this show and even Steven Wilson joked around about no one there knowing who they were. If you still haven't looked into this band, do it now!
After wandering around the fest for a little while, we caught M.I.A. from afar while we waited for Rage. I was disappointed with her sound live, but hip-hop live almost always leaves me wanting and i was pretty far from the stage, so I won't hold it against her, but I just don't think I understand completely why everyone is so into her. Her rap style is so monotone and repetitive. I've listened to her new album a few times and I just don't think she sounds that special.
After that, it was time for the main event, Rage Against The Machine. I had caught them at Phillips Arena back when they were touring for Battle Of Los Angeles and had loved that show so I was very excited to catch them here. They played a little longer than an hour, went through most of the hits, and by the end, I didn't think it compared to the first time I saw them at all. They were very sloppy and didn't sound like they were together at all, which is surprising to me since most of them have been playing together in Audioslave. The other main problem was the crowd didn't really seem to be into them at all. When I caught them before, my favorite part of the show was watching the entire crowd go nuts, and this time it just didn't seem to inspire that sort of reaction. Overall, though, it was still great seeing them again.
When we got back to our place Friday night, before heading down to Bourbon St. until 5am, we found a note from the woman running the bed and breakfast accusing us of eating her food in the freezer. The next morning, Biggie C woke up first to go through his photos from the day before and the woman came out and started screaming at him about the supposed missing food. After about an hour and a half of drama, the end game was that she was mistaken about the food and since Biggie C didn't apologize for disagreeing with her about the fact that we didn't eat the food, she kicked him out of the bed and breakfast. So we then had to waste another hour finding hotel to stay at for the rest of the weekend. The crappy B&B's email is hosts@ArtsBandB.com, so we urge all our readers to have some fun with that.
Saturday I didn't really get to catch much music because of the above fiasco, but i caught a little bit of Ghostland Observatory, Ben Harper, and Spoon, who were all decent but not inspiring.
The best show of the weekend in my opinion was next, The Smashing Pumpkins. While I had some trouble enjoying the Asheville show I had caught over the summer because I didn't know most of the songs they played, now that i know and love Zeitgeist, they were simply amazing. The almost two-hour set contained very little old-school hit songs you would expect from the typical festival show, but rather put on a compelling display of why the nu-Smashing Pumpkins are phenomenal in their own retro-rock 'n' roll way. If you can score a ticket to one of the make-up Atlanta shows this month, do it. For all of the music critic masses that just won't take the new album seriously, you're only depriving yourself of some great tunes.
After that, I caught the Tiesto set, who did some pretty good trance, capped by a Tegan And Sara remix that was, for better or worse, stuck in all of our heads for the rest of the weekend.
Sunday I started on the tiny stage to check out Good Guys, I really interesting hybrid of metal and Lounge music. This New Orleans native band came out dressed in Ghostbuster uniforms and were really cool and weird. If you want to hear something unlike anything you've heard before, i recommend checking them out.
Next up I checked out Quintron And Miss Pussycat. Despite the fact that Miss Pussycat , Quintron's wife, seemed more like a prop than a musician, Quintron tore it up with a really interesting array of instrumentation that apparently he has invented or built. I was way in the back for the show so I didn't really get to see everything he was using, but I hope to catch this New Orleans act again, maybe at one of their upcoming Mardi Gras shows.
After that I caught the end of the Black Crowes show, and it was better than the first time I saw them at Bonnaroo, which was terrible, but they just aren't my thing. Common came on next and I thought he put on a really great show, with a full band backing him. After that I caught Wilco to close out the fest and they rocked just as hard as their spectacular Bonnaroo set earlier this year, but I didn't quite like the song selection as much. There is no denying that Wilco as it is now is a pretty top-notch band and I will go see them every chance I get.
My overall impression of my second Voodoo experience was overwhelmingly positive. I'm a big fan of the two opposing stages going back and forth keeping music constantly going that both Pitchfork Fest and Lollapalooza also employ. The sound systems seemed to have a minimal amount of problems, although I did hear a few. My biggest complaint about the weekend would be the crowd. At the peak times on Friday and Saturday, there were ridiculously long lines for the bathrooms and food and beer outlets, but the Voodoo Fest's estimates on attendance were over 150,000 people for the weekend, up over 50% from the previous year's 93,000, so i don't think they were fully prepared for so many people. Also, the crowd seemed to remind me most of the Music Midtown crowds of a few years ago that don't exude the same level of respect for their fellow festival goers you expect at hippy fests like Echo Project and Bonnaroo. But for me, those were only minor annoyances that did very little to curb the fun I had this year at Voodoo and I'm looking forward to checking it out again next year.
Posted by Davy Minor on November 6, 2007 at 1:56 pm
Tags: Good Guys, MIA, Porcupine Tree, Quintron, Rage Against The Machine, Smashing Pumpkins, Tiesto, Voodoo 2007, Voodoo Fest, Wilco

Spoon

Tiesto

The Smashing Pumpkins

Not sure exactly why, but I've heard that Jimmy is in the hospital. They did say that tommorrow night's show is supposed to be on. Check here for details. We'll keep you updated if we get more info.
I love the Smashing Pumpkins and this new video is great:
a la "Tonight, Tonight"….
The Smashing Pumpkins Asheville residency show I caught may have left me wanting, but I have decided that I love Zeitgeist. I know this is certainly not an opinion that many critics are going to share, but I think there are some reasons for that. Of course Billy Corgan's personality is going to put off some people and the lack of original members makes some people not take this work as seriously as they should. Also, I believe the album employs many sounds that are not particularly in style at the moment and there is nothing really ground-breaking about it. All of that said, this is just simply a really great album. The more familiar I become with it, the more I enjoy it. I have always been a James Iha fan, but I no longer believe he is necessary for the Smashing Pumpkins franchise to be legitimate.
Smashing Pumpkins : Zeigeist : United States

I skipped most of the Corndogorama for Pitchfork Music Fest in Chicago. It was really fun and despite sound problems, all and all a pretty sweet fest. Our coverage:
Day 1
Day 2
Day 3/Wrap-Up
We got some good photos of Parade's in-store Criminal Records show. Remember they are playing for free this Saturday night.
Marnie Stern exceeded my high expectations with her amazing show and is one of 2007′s best artists in my opinion. I swear we'll have video from the show up soon.
Another great summer show I caught was Portugal The Man. Two things I took from the show is that I didn't think a band could fit 10 people on the Drunken Unicorn stage jamming/dancing/working lights at one time and Portugal The Man's new blues-rock sound on Church Mouth further displays how much stylistic range this band has.
Biggie C went down to Savannah to catch the Daniel Johnston show.
Thanks for reading! Come down to the 'park this Saturday night and have some beers on us.
Posted by Davy Minor on September 3, 2007 at 10:56 pm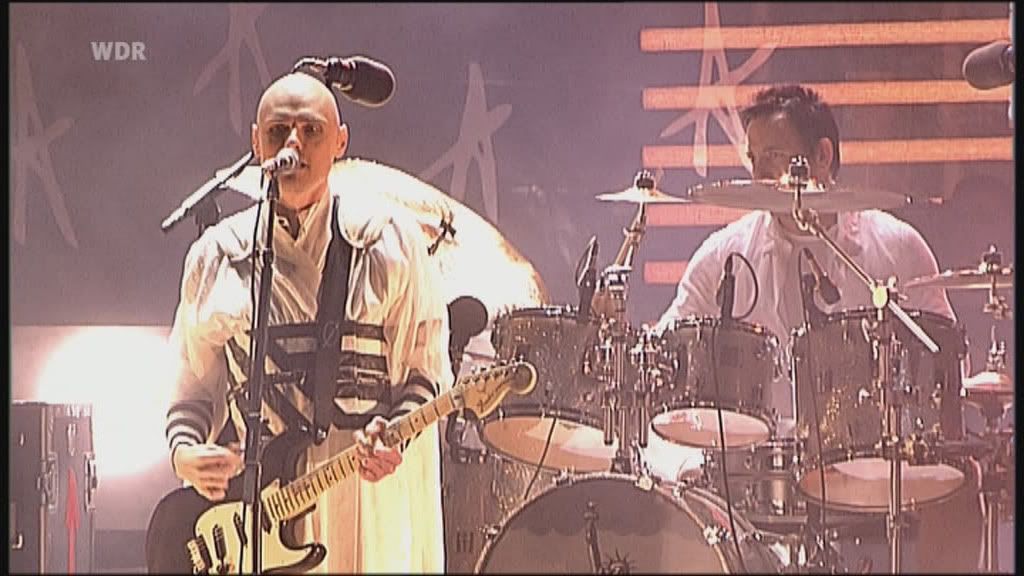 Smashing Pumpkins 2007-06-02 Nürburg, Germany (DVD9) (PAL)
THE SMASHING PUMPKINS
2007-06-02
Rock am Ring Festival @ Nuerburgring
Nuerburg, Germany
Source: Digital TV (DVB-S) > Nokia d-box 2
Video Format: DVD PAL 16:9, MPEG-2 720×576 pixels, 25 fps, 6992 kbps
Audio Format: MPEG Layer 2, stereo, 48.0 kHz, 192 kbps
Length: 01:51:43;24
TV Channel: WDR
Broadcast Date: 2007-06-17
Completely authored with 16:9 widescreen menus.
Chapters:
01 (Interview with Uli Jon Roth)
02 Today
02 Bullet with Butterfly Wings
03 United States > Star Spangled Banner [Key] (tease)
04 Bleeding the Orchid
05 Stand Inside Your Love
06 Cherub Rock
07 Shame
08 Silverfuck > The End [The Doors] (tease)
09 Thirty-three
10 To Sheila
11 Tonight, Tonight
12 Tarantula
13 Starz
14 Zero
15 Disarm
16 1979
17 Untitled
18 Gossamer (with Uli Jon Roth)
Notes:
This requires a double layer DVD-R/DVD+R (8.5 GB) for burning.
Audio sample (Shame):
http://www.yousendit.com/download/W…yTERiV3cwTVE9PQ
Video sample (Cherub Rock):
http://www.yousendit.com/download/W…tcWZWRDgwTVE9PQ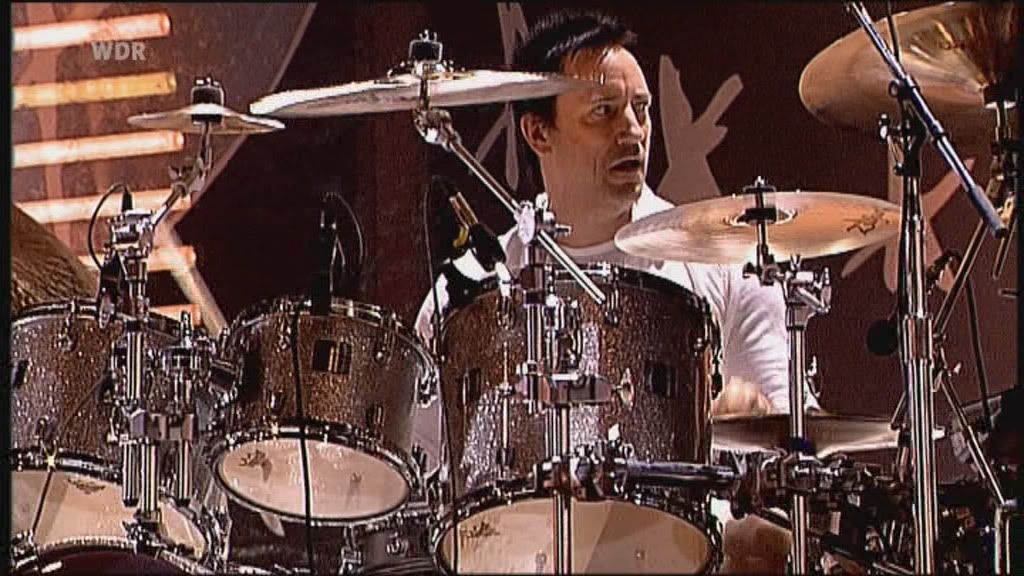 Older Posts »